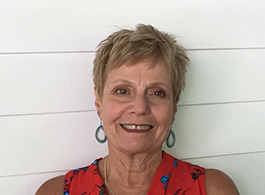 Fall 2017
Dear Friends,
I hope everyone had a nice summer. If you were around in July and you were able to join us for our annual cookout, I hope you will agree it was by far the best one yet. One reason for that was the pitching in of everyone who helped with the setup, cooking, distributing the food and of course the cleanup that night. It certainly made it feel like family & friends gathering together.
The night also featured karaoke, the 50-50 raffle and a very successful membership drive. I always look forward to these events mostly because I really like to see the connection that everyone has made to each other. Real friendships have been formed. In many ways it feels like family.
One of our events I have found to be awe inspiring is our Open Mic night the 5th Wednesday of the month. We have so many talented people who attend our groups and we are so fortunate to have them share it with all of us. I have to thank our Vice President for coming up with the idea and making it happen.
As my first few months as President I just want to say how grateful I am to have such a fantastic Board to work with. Everyone has the same goal – keeping DBSA running smoothly. I must say the past Presidents have paved the way for smooth sailing for me.
At our August board meeting the budget was presented by our Treasurer Susan and our Comptroller Barry. It was all good news thanks to their hard work we are financially in great shape. Also the memberships are up thanks to the work of the membership committee. If you're not a member yet we look forward to you joining.
I would like to take this time to mention some of our committees. Our primary ones are Communications, Activities, Fundraising, Membership, and Training. We are always looking for volunteers if you are interested stop by the office or talk to a board member, see which one you might have an interest in.
Of course another way to give back is by being a facilitator. Any questions about becoming one you can always talk with Bob Hanfig. Also anyone that is current facilitator please don't forget we hold facilitator meetings on the first and third Wednesday at 5:45 p.m. in room 132. Please come and join in. It's a good time to catch up with people from other groups that you may not attend, and pick up a few pointers from others, along with sharing your own.
Thank you for allowing me to be your President. Please don't hesitate to come to me with any ideas, problems or just to say hello.
Enjoy the fall.
Lillian Cravotta-Crouch
President DBSA-Boston
1,840 total views, 1 views today