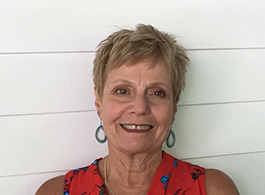 Spring 2018
It's been a cold winter but we've been nice in warm at DBSA. We had our annual holiday party on December 20. Christian & Kelly worked on coordinating many of our members who volunteered to make our party a big success, along with many vendors selling their wares at our annual "Lee Paris Artisan Fair."
We provided pizza, sandwiches drinks, & desert. Our members also brought a variety of good food to share with all. Everyone seemed to be enjoying themselves, some even stepping up to the mike to sing holiday songs. The prizes that people donated were wonderful from music lessons, to free passes and very generous gift cards, along with a 50/50 raffle. Art & his wife out did themselves with their gifts baskets.
On Christmas Day Kenny & Kate helped to organize a very nice potluck lunch which I'm so glad Meach and I were able to drop in on. There was a beautiful blanket of snow outside with a lot of warmth inside.
This being my third President's message I was wondering what can I write about. Then last night it came to me after attending Family & Friends as a member not a facilitator and there it was.
We had a few new people in crisis and we had some of our more-seasoned members. One of the topics was letting go when our love ones are no longer in crisis.
So to our loved ones, who may remember their fear when they were first diagnosed, or your first hospital stay or when you first realized something was wrong, we were there feeling helpless and afraid. I've listened to other families members who tried so hard to help and at times feeling helpless.
When my family was first in crisis one of my daughters said to me, "Mom do you remember what you used to tell me when I was little and I was afraid?" I had no idea what she was talking about. She then reminded me that I'd tell her "There's nothing to fear but fear itself". Apparently she thought I needed to hear that, sometimes listening to our own advice is not so easy.
Week after week people in our group will talk about their loved ones' progress. How they are able to volunteer, go back to school, maybe think about going back to work, or just go out for a walk. As a group we are so happy to hear about their accomplishments. We all see how far they've come in their recovery. Yet the person talking may not be able to see it as well because of the fear they are holding onto.
So last night when a member was saying how they were having a hard time letting go, we had another member say, "Remember this is not your illness. They need to manage their own lives, we need to step out of the way." So please forgive us if it's not quick enough — we are trying. We don't always know how to go back to just being your mother, father, husband, wife, etc. Believe me we are trying hard, just like you have tried so hard to get well and stay well. It is wonderful to see how beautifully so many of you have managed this.
So next time we remind you to take your medicine, or get up in the morning, be patient with us. We love you so much we don't want to see you hurt. As you go on with your life we will try and remember not to let our fears hold you back.
Looking ahead now toward the spring. On April 18 we will be hosting our annual ice cream social. So make sure to mark your calendar. This is always a wonderful event. I'm sure we will be looking to our members to help with scooping. There will be music from our talented members to help make the evening enjoyable.
Then there is the NAMI walk, which will take place on Saturday May 19th. I really enjoy this day – it's all about fighting the stigma. I will be co-captain with Christian our Vice President. We had such a wonderful turnout last year for this event. Tom Schofield the President of NAMI presented us with a check for $3,400 dollars for helping raise money for NAMI/Middlesex.
So don't forget to mark your calendar and join us. To sign up you can see either Christian or me. Let's see if we can make this year even a bigger success than last year – we can't do this without you. So whether you sign up to walk or make a donation you will be helping make the event a success.
For updates on all of our spring events, check out our website, or go to our Facebook page.
I would like to take this time to thank all the members of the board/share care committee for all their hard work. The board has done a great job managing the finances as share care continues to make DBSA a safe place for all to come. If at any time you have concerns or suggestions please feel free to approach anyone of us and we will try to do our best to help in any way we can.
As far as our members go, thank you for always stepping up to help one another. We are all traveling this road together. We can all make a difference to ensure that people dealing with mental health issues be treated with the respect that they deserve, just like any other health condition.
Enjoy the longer days and the arrival of spring.
Lillian Cravotta-Crouch
President DBSA-Boston
2,204 total views, 1 views today