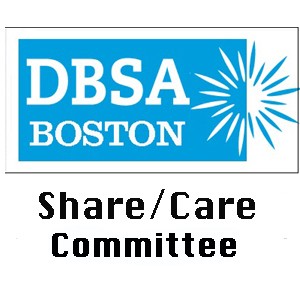 PURPOSE:
The Share Care Committee sets policy regarding training, methods, and format. It arbitrates disputes, investigates complaints, approves the formation of new groups, analyzes data on attendance, identifies trends, and tries to accommodate the needs of facilitators and groups.
It is the Share Care Committee's intent to always exercise its authority with compassion and sensitivity.
COMPOSITION:
The Share Care Committee consists of nine members, some of whom are at-large members and the remainder of whom are members by virtue of their positions of leadership.
Representative of the Board of Directors: (per the DBSA By-laws)
Vice President: Christian Tiongson – Chairperson
Coordinators: (by designation of the Share/Care committee)
Facilitator Coordinator: Roberta U.
Wednesday Night Assignments Coordinator: Michaela C.
Daytime Facilitator Coordinator: Kate R.
At-Large Members (Selected by vote of the Share Care committee)
Marina C.
Dennis Hagler
Bob Hanflig
Sylvia McDonnell
Michele O'Shea
Open

President: Lillian Cravotta-Crouch, ex-officio
We endeavor to provide a structure whereby participation in this committee is open to new members who can infuse this committee with new ideas, initiatives, and fresh perspectives. If you have an interest in serving on the Share Care Committee, please notify any member and we will consider your membership when we have a vacancy. New at-large members are decided by a majority vote of the sitting members, and only when a quorum is reached. A quorum is defined as half the committee (rounded up to a whole number if necessary). We currently consist of seven members. Therefore, five members must be present to achieve a quorum. A vote/motion is carried when half the quorum plus one votes to approve or defeat the motion in question. In this instance a minimum of four votes would be needed to carry a motion.
To contact the Share Care Committee please email
sharecare@dbsaboston.org
1,220 total views, 1 views today