"Fair Winds and Following Seas * to our Beloved Arthur Stead"
Arthur Stead, a longtime member and friend of so many in the DBSA-Boston community, died April 25, 2016, of a tragic accident. He was 42.
Arthur served as President and on the Board Directors, and when Vice President served as Chair for the Share Care Committee. He was a facilitator, and organizer of our many art shows. With his computer savvy and quick learning Arthur also managed the website – a major contribution to DBSA-Boston. He was a tireless champion of people living with mental health issues.
A two-hour Remembrance group was held April 27 at the DBSA-Boston meeting. Memories of his leadership, energy, spirit, and passion live on. Read Dennis Hagler's moving elegy for Arthur.
Arthur was born in Boston, Massachusetts on Dec. 6, 1973, graduated from Lexington High School. He received a master's degree in applied sociology from the University of Massachusetts.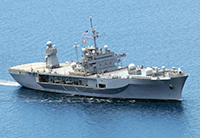 Arthur served six years in the Navy. A fellow seaman recalled that in 1995 she met him in Japan while he was serving on the USS Blue Ridge, where his shipmates fondly called him, "Ten High." Arthur was honorably discharged and earned an armed service medal as well as a good conduct medal.
Arthur was most recently employed at North Suffolk Mental Health Association as a Peer Support Specialist. He went through the rigorous Peer Specialist Training offered by the Transformation Center and passed the all the examinations to become a Certified Peer Specialist.
Arthur was admired for his passion and ability to be outspoken about the needs of those struggling with mental health issues; a tireless advocate for those who were not able to speak up for themselves. Arthur performed outreach duties to bring care, connection, comfort, and support to people living out in the community. As part of Arthur's job, he also worked at the Hope Center, located at the Lindemann Center, 25 Staniford Street, Boston. http://www.hoperlc.org/
Arthur enjoyed painting, drawing, cooking multicultural food and reading. He also loved playing with his rescue dog, Luna, Salsa dancing and healthy living.
He is survived by a daughter, Kathleen of Florida; two sons, Kyle and Christopher of Florida; three brothers, William of Fairbanks, Alaska, Daniel of Acton and Matthew of Arlington; two nieces and several cousins.
DBSA-Boston extends their sympathy to Arthur's family.
*Arthur always wished his friends well, by wishing them "Fair winds and following seas" …
302 total views, 1 views today